Plenty Of Fish Review (2018)
Overview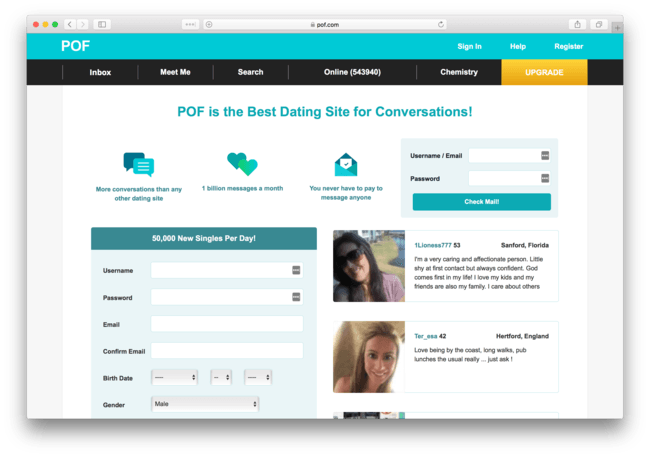 Plenty of Fish does not lie in the upper echelon of dating sites, but, it's a good starting point if you are looking to find serious relationship. POF offers a lot of the essential features for free, thus you can seek love without any costs!
That's right. I said, I meant it. L-O-V-E.
Like most online dating sites, the premium features are hidden behind a glass pay wall. You have to part with some cash to reveal the features though.
If you simply just want to mingle without really caring about the site design and sub-par layout, Plenty of Fish is just what you need to check out.
Just like it's neighbors OKCupid and Zoosk, PlentyOfFish kind of frowns upon the concept of Hookup Dating. Propose anything remotely sexual and your message quickly gets deleted and more often than not so is your dating profile.
Trying to find hookups on PlentyOfFish is a subtle process. While I prefer to cut to the chase and use one of the apps that is made for this.. if you insist, you can read how to do it using PlentyOfFish in Chapter 4 of Dating Decoded.

Overall Rating
| | |
| --- | --- |
| Popularity | |
| Features | |
| Value | |
| Safety | |
| Ease of Use | |
How it works
Signing up to Plenty of Fish is quite easy. The process is straightforward and entails a series of both open and closed ended questions. Once you answer these, there is ample space provided for you to get to describe yourself in about 100 characters.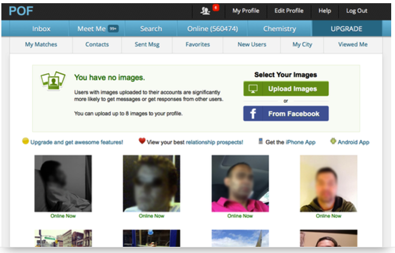 As I said before, POF is oriented towards serious daters and has a strict policy on any inappropriate language and sexual content being shared. So don't do this.
Pros and Cons
Pros of plentyoffish.com
Popular mobile app.
Large member database.
Cons of plentyoffish.com
No longer free
75% (male) users
No Hookups Allowed
No Video Chat.
Layout feels very outdated
Data Breakdown
User Base

All Singles*

Popularity(Visit/Mo.)

30 Million*

Gender Ratio

75%

25%
Features
Meet Me: Has a neat Meet Me feature that lets you browse singles on the site one picture at a time.
Ultra Match: Has an Ultra Match that lets you view a list of your most probable matches.
Chemistry Test: Plenty of Fish has an amazing feature known as a Chemistry Test that lets you tell your own compatibility by reviewing your self-confidence, self-control, openness, family orientation and how easy going you are.
Partner Compatibility Test: Contains a Relationship Needs Assessment that lets you answer a quiz from multiple choice questions. This helps you know your characteristics and you can then tell what kind of partner would thus be ideal for you.
Pricing
Originally strictly free, Plenty Of Fish has now introduced some premium pricing. While you do get a little bit of bang for your buck, the features that Tinder and OKCupid offer for about the same price are much more beneficial.
| Month | Price |
| --- | --- |
| 2 Months | $18.59 / Month |
| 4 Months | $13.39 / Month |
| 8 Months | $10.68 / Month |
Ease of Use
POF's layout is beyond dated, but the fact that Plenty of Fish allows access from both a desktop and a smartphone is a plus. However,, while it maybe easy to use from any device a lot of users are complaining about the male to female ratios on the site.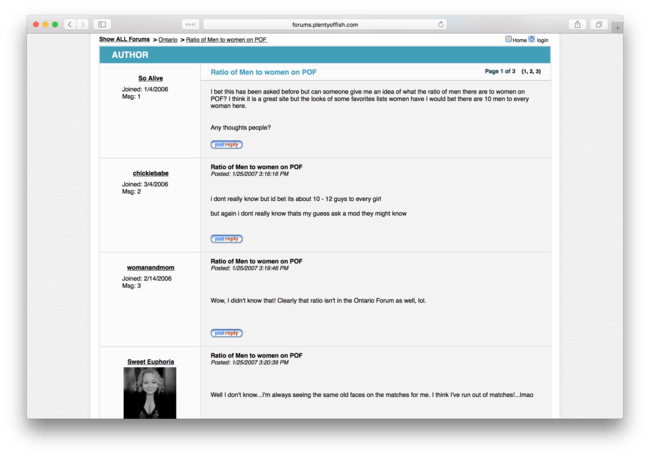 Ease of use only takes you so far if there are no women in your area to talk to. It may differ from area to area, but we've encountered similar scenarios in some of the bigger cities.
The Bottom Line
PlentyOfFish is a free site. Well it used to be a free site.. and like my grandmother always said, "you get what you pay for". She's long gone now, and wasn't always right so don't worry, but it is kind of true for PlentyOfFish.
Here's what I find to be true about free sites in general. If people don't shell out the few bucks a month for that dating subscription in general they don't value it. They don't put much time into their own profile and don't value the messages or conversation.
As explained inside Dating Decoded, dating is about emotional investment. PlentyOfFish has none and the site reeks of it.
With our hook and pull method it might be worth it just to have a free profile on there but if you're serious about finding a hookup in the next couple of days we suggest going somewhere else.