Tinder Review (2018)
Overview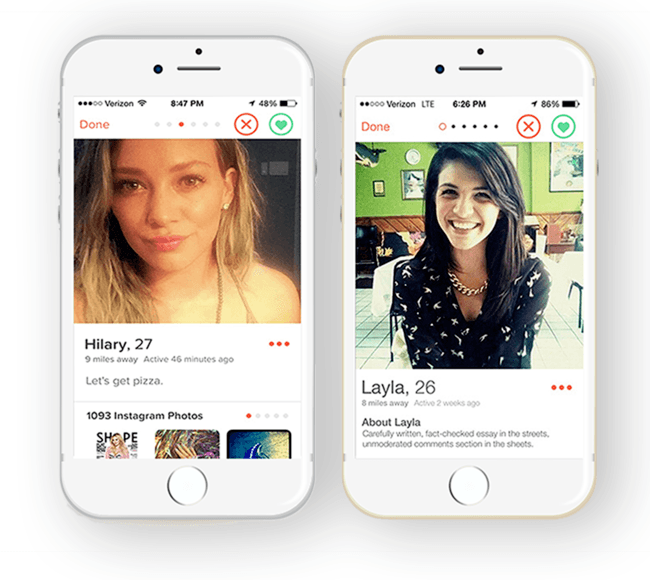 While only 17% of it's users are over 35. Tinder has made hook up dating cool and sort of brought it to the masses.
Believe it or not, Tinder was actually an adaptation of gay hookup app "Grinder". which was very successful. Funny enough, it took a while for a straight adaptation to come out, because people thought it would never work for straight women. Boy were they wrong.. Whenever somebody tells me, oh those hookup sites don't work I tell them the story of Tinder.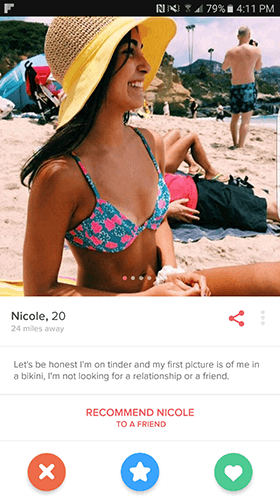 Tinder is unparalleled in ease of use. But if you're a man over 35 you won't find much action on the platform. The problem with Tinder is that over 83% of it's users are under 35. With about 38% of it's users being under 24. Most girls on Tinder aren't really looking for a daddy if u know what I mean..
On top of that you're up against an ever growing group of guys on the platform. While in early 2016 the male-to-female ratio on tinder was 60% to 40% it's currently boasting closer to 63% to 37% with no signs of slowing down.
Listen the devil is in the details.. Tinder is great, there's a place for it in your toolbox. But with 72% of it's users admitting to visiting other dating sites then Tinder, you really have to think about it's effectiveness as a hook up site.
Not everything is as it appears..

Overall Rating
| | |
| --- | --- |
| Popularity | |
| Features | |
| Value | |
| Safety | |
| Ease of Use | |
How it works
Signing up to Tinder is easy. Just download the app from the app store and sign in with your Facebook account. Click a couple of time and you're ready to enter the meat market.
After registration, you can opt to set up your own profile picture and upload five more secondary pictures of your choice. You can upload photos straight from your mobile device onto Tinder too.
We recommend to let Tinder automatically optimize your photos to find the profile photo that gets the most right-swipes.
You can opt to show/hide your discovery status by turning the on/off switch.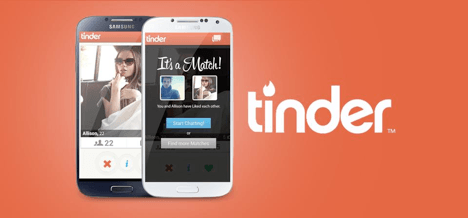 Tinder does not have a strict login process really. You will not be required to login again if you are connected to the Facebook app. This is of course the case as long as you do not manually log out from the account settings screen. To log back in to Tinder, you can simply tap on Log In Using Facebook and you'll be right back in the thick of things. Looking for love among singles.
Pros and Cons
Pros of Tinder.com
Easy Signup: Quick and friendly sign-up process. Probably the most easy you'll find anywhere.
Widely accepted: Tinder is without a doubt the most widely accepted dating app.
GPS Based: Tinder's location based dating accuracy is unparalleled.
Cons of Tinder.com
You need to have a Facebook account in order to sign up.
No matching algorithm. It's just based on looks.
Age based pricing model
Only 17% of it's users are over 35
Chances of meeting somebody on Tinder when you're older next to nothing
Growing male user base of +63%
Data Breakdown
User Base

All Singles*

Popularity(Visit/Mo.)

90 Million*

Gender Ratio

65%

35%
Features
An easily understandable user interface and features.

Has a large user base that is ever growing.

Tinder has an option to connect to an Instagram and display Instagram feed.

Tinder passports facilitates you to match with other users without ever being physically there.

Super Like and Tinder Boost options which exist help in increasing your chances of finding suitable matches.

Has a quick registration and profile set up process.
Pricing
You could always try out the free basic membership but in order to access full functionality, we recommend you checking out their paid subscriptions available
| | |
| --- | --- |
| 1 Month (for users who are aged 29 and under) | $9.99/mo |
| 1 Month (for users who are aged 30+) | $19.99/mo |
Ease of Use
We gotta give credit where it's due. In terms of usability you'll find no better hook up app than tinder. It's as easy as tapping water from the sink.
The fact that you can get to easily navigate from one user to the next all in a single swipe; to the left or right really does simplify the dating game. Their mobile based approach also means that they easily get to engage a more diverse crowd who are actively on their mobile devices.
The Bottom Line
We give the site a 3 star rating out of a possible maximum of 5.
At the end of the day it doesn't really matter how pretty the site is. It doesn't matter how good you can swipe or how cool the emojis are.
Any guy knows, it doesn't matter how ugly the venue as long as it will get you laid it's worth the trip.
While it's not completely impossible to find somebody on there, the steep competition and the unfavorable odds of finding somebody in the higher age ranges make this a party I'd rather skip.
With only 14% of women swiping left on males they see, I'll rather take my chances on some of the other sites..
All in all, Tinder is good place to dip your toes into the pool. Learn the ropes and test some of your pictures. It's not completely hopeless. Just make sure you read Chapter 11 of Dating Decoded before you do