iHookup Review (2018)
Overview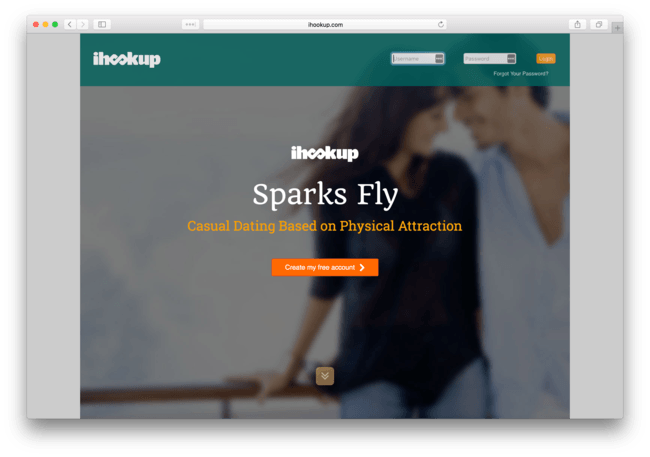 iHookup is a dating website that is designed to help singles hook up online. The site is currently on the 10th spot in our Hook Up App Reviews and it will probably remain there for quite some time. iHookup won't do much more for you then some face-to-face with some overpriced cam models. Don't sign up here. There are better places.

Overall Rating
| | |
| --- | --- |
| Popularity | |
| Features | |
| Value | |
| Safety | |
| Ease of Use | |
How it works
Like most other sites, the sign up process is easy peasy. You are required to fill out basic information about yourself in about a single page form. This information entails your sexual orientation, the sexual orientation of members you are on the lookout for, your main intent for using the site (online fun or dating), location and birthday.
Your username is actually very visible on iHookup so I recommend choosing a good one. As explained in detail inside Dating Decoded, choose something that makes it easy for women to ask questions about. I.e FruitNinja74, VanillaBlend75 or if you want to get a little more sexual ParentalAdvisory81, ExplicitContent78.
Immediately after sign up you'll be asked to choose a subscription package. Pro Top: Easily bypass this by clicking on the top menu and explore the site for free, and trust me you'll be glad you did.
The biggest problem with iHookup is not how it looks. In fact it looks great and it works great. It's their members.
I always bounce some playful messages back and forth to try and spark some interest. What struck me with iHookup is that almost every conversation I had was replied back to with broken english. It just didn't feel right.
The Dude knows what he's doing so we ran iHookup through a couple of our tools and found out that large chunks of the people visiting their website are coming from Philippines and Thailand.
This smells fishy. Especially when they pretend to be in the US.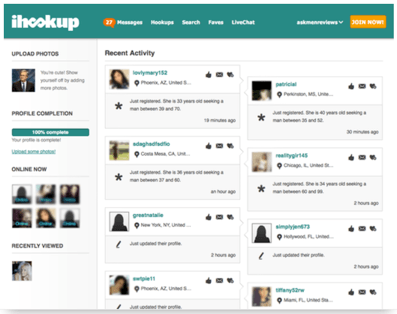 Pros and Cons
Pros of ihookup.com
Best Quality Videos out of any HookUp Site
Members' main sign up reason is clearly reflected in their profiles. Thus, no time wasting.
Cons of ihookup.com
Asian members posing as US Women
No Member Verification Process
Multiple Ads on the site
No reply from customer support
Data Breakdown
| | |
| --- | --- |
| User Base | Mixed |
| Popularity(Visit/Mo.) | <1 Million |
| Gender Ratio | Unknown |
Features
Video Chat: Full HD live chat webcams.
Compatibility Matching: Has a unique profile section that displays individual, social and sexual compatibility.
Private Photo Albums: Private member albums can be shared individually with 'keys'.
Pricing
| Months | Price |
| --- | --- |
| 1 Month | $39.99/mo |
Ease of Use
The site is easy to use. That's not the issue. iHookup shines in the Full HD webcam department. Their video is crystal clear and better then we've seen on most sites.
You'll easily find your way around browsing different profiles or starting a conversation. The problem is, you just don't know who you're starting a conversation with.
The Bottom Line
We give the site 1 star out of a possible 5. Users are engaging, but with what we've seen I feel this is hired help from asia trying to show you a good time. (or take your credit card). Either way, I don't feel safe using this service and that's an issue.
Until their support has gotten back to us and addressed what we've found above. We stand firm. Stay far away from iHookup. As far as you can.