EliteSingles.com Review (2018)
Overview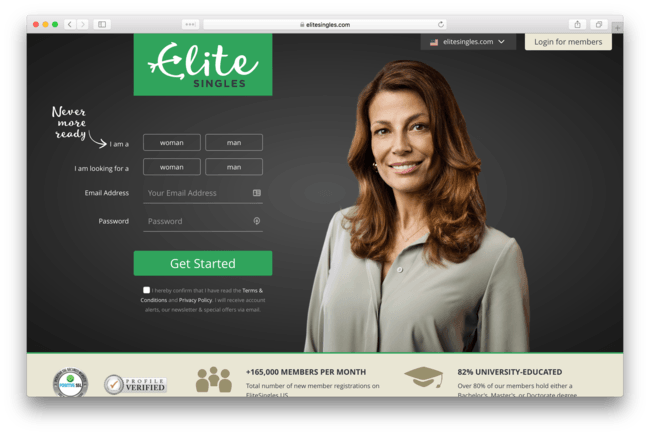 #1 in our monthly dating chart, EliteSingles sets itself apart by catering to the higher educated professionals looking for love.
Don't let that their catchline scare you away. Just because most women on EliteSingles are better educated it doesn't mean they're looking for a man with a similar degree.
As many readers of our Dating Decoded book know, women don't care about finding an intelligent mate. They care about finding an emotionally intelligent partner. There's a way to convey ambition and emotional intelligence in a way that's much more powerful then a college degree. If you want to learn how check out the book here >>
If you're looking for a serious relationship, you want a woman who has her life together. You want a woman who has the financial means to look after herself. Because EliteSingles focusses on exactly these types of women, most of the filtering has already been done for you.
Many professionals lead time constrained lives, yet still, they need love. Interestingly, most professionals have specific things they look out for in their ideal significant other. Just like Match, EliteSingles provides a wonderful algorithm that does the heavy-lifting in terms of sorting through its database for the most ideal partner pairings.
EliteSingles considers itself the best match making website and we gladly agree. It is quickly gaining traction on other dating sites by providing real alternative options for those looking for love. Its growth overtime has seen it expand its horizons to beyond the United Kingdom to all regions of the world.
Statistical data shows that most members, about 82% are university graduates. That's quite a breath of fresh air! Users on the website are well informed and know a thing or two about compatible mates. EliteSingles provides a platform for them to easily find fellow users with similar traits as them.
Having a partner who shares the same personality traits and beliefs as you is quite quintessential for love to sprout.

Overall Rating
| | |
| --- | --- |
| Popularity | |
| Features | |
| Value | |
| Safety | |
| Ease of Use | |
How it works
If you manage to make your way through the extensive (take a big cup of coffee, you'll be a while) questionnaire, the fantastic matching algorithm is the real gem here. Signing up entails you filling up an extensive questionnaire which is developed by psychologists who understand the intricacies of modern couples likes and dislikes.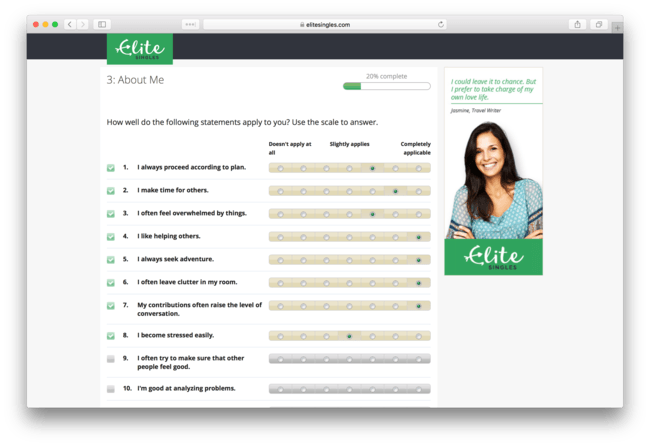 The next step involves providing details about your profile. One may feel a bit bombarded with the questions, but questionnaires provide a powerful way to demonstrate personality. More importantly it's a great opportunity to show the type of characteristics the woman you want is looking for. (Check out chapter 16 of Dating Decoded if you want to learn more)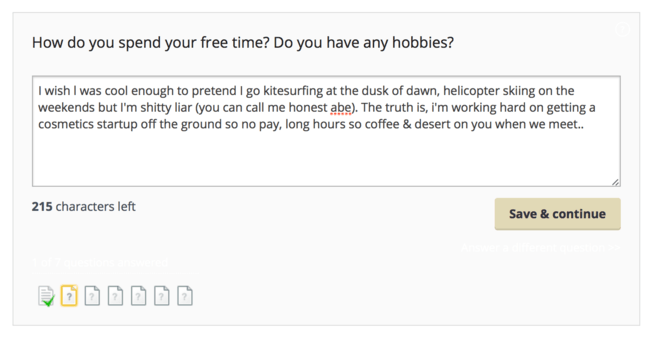 By providing information like your hobbies, strengths, passions you aspirations plus more, you assist the algorithm in developing your character trait. Having this in place is essential for it to commence the match making process.
Most importantly, after completing these steps, it's pretty much a smooth ride henceforth. You will be provided with a number of matches based on personality and search criteria on a daily basis, usually about 3-7.
Something worth noting is that EliteSingles does not provide the conventional search functionality common in most dating websites. It relies on its own set up to pair you up with a suitable partner. Thus, if you're used to playing match maker all on you own, this may not be the ideal dating website for you.
However, if like most professionals; you happen to be short of time, then this is quite the gold mine. It will save you a ton of research work and unnecessary haggling with strangers who may not share similar interests with you.
EliteSingles has a desktop website and a downloadable app version of their services. For newbies to the website, we would recommend first checking out their desktop version due to the more feature available.
Once you get to acquaint yourself sufficiently with all the information you need, you can then hop on to the app version for the long term. It has all the main features from the desktop version plus, it provides functionality for professionals who are always on the go.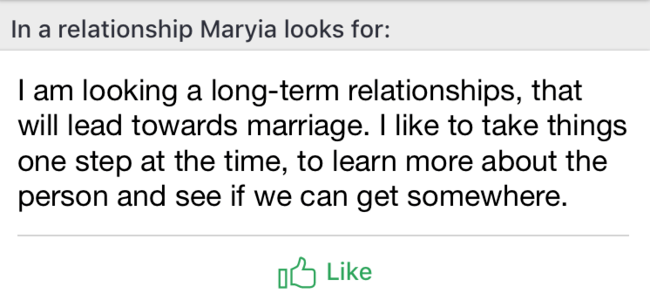 By design, EliteSingles is a site that is built for singles looking for serious commitments. Almost everything about the site and the application is geared to specifically cater for relationships development. Based on user interactions and statistics recorded, cupid has been known to smile on new couples on the website quite often.
Pros and Cons
Pros of EliteSingles.com
Impressive compatibility based algorithm.
Good pool of women to fish in with 82% university graduates
Available in App Stores as well as online
Cons of EliteSingles.com
No Video Chat Capabilities (this actually works in your favor)
Data Breakdown
User Base

All Singles*

Popularity(Visit/Mo.)

1.2 Million*

Gender Ratio

43%

57%
Features
Patented Matching Algorithm: Your long questionnaire will be worth the time and effort. EliteSingles has a patented Matching Algorithm based on 29 unique personality traits.
Limited Daily Matches: Unlike a lot of other dating sites the amount of matches you get on a daily bases is limited. People value what's scarce and because of this we've seen much higher commitment from women on messages and in interactions.
Top Notch Security: Top level security prevents scammers from entering the platform
Pricing
While EliteSingles provides an impressive dating platform and and more importantly a very select group of women that would ordinarily be hard to meet, it comes at a price.
For starters, there's no more 1 month membership. Memberships are either 3, 6 or 12 months.
| Months | Price |
| --- | --- |
| 3 Months | $34.95 per month *($104,85 total)* |
| 6 Months | $19.95 per month *($119,70 total with -20% discount)* |
| 12 Month | $17.95 per month *($215.40 total)* |
Since they're currently having a 20% discount deal on the Premium Classic membership, you get twice the features and twice the membership for almost the same money as with the Premium Light.
While we'd love to see the original 1-month membership back (come on guys!), the 6-month Premium Classic is clearly the better choice.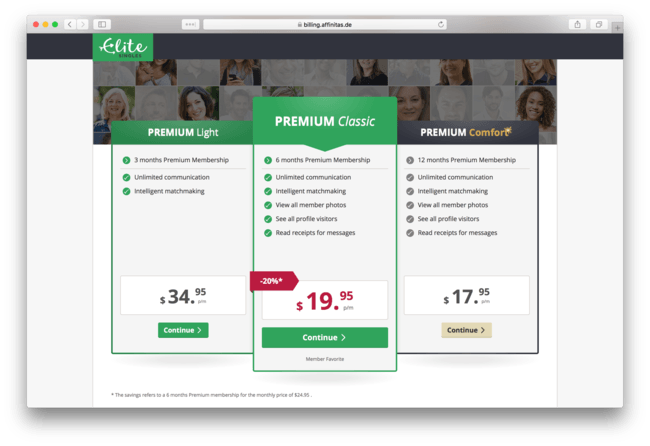 Ease of Use
While all the green reminds me of shopping at whole foods, both the app and website are intuitive. All that said, at the end of the day the only important question is if EliteSingles get's the job done.
EliteSingles passes the test with flying colors and if price isn't an issue the pool of women you have access to will work in your favor. More importantly, if you use the hook and pull method we teach you in Dating Decoded it will feel like all the heavy lifting is being done for you. How's that for ease of use?
One thing that's important to note is that with a basic membership you will not be able to see full pictures. While it's annoying and rather unusual in the dating space I think we'll see more sites starting to adopt this model as privacy becomes a bigger issue.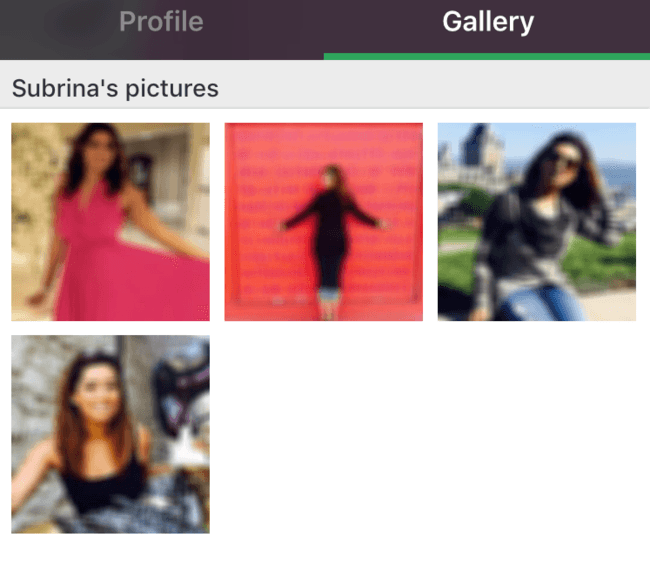 It keeps your photos safe from the people in your area that are just eaves dropping and makes it only available to the people who are just as serious about meeting somebody as yourself.
The Bottom Line
What we like about their daily matches is that they're limited. Women don't value what's in abundance, which is why you'll see much higher response rates on EliteSingles than you'd ever would swiping on Tinder. Kind of counter intuitive but it works.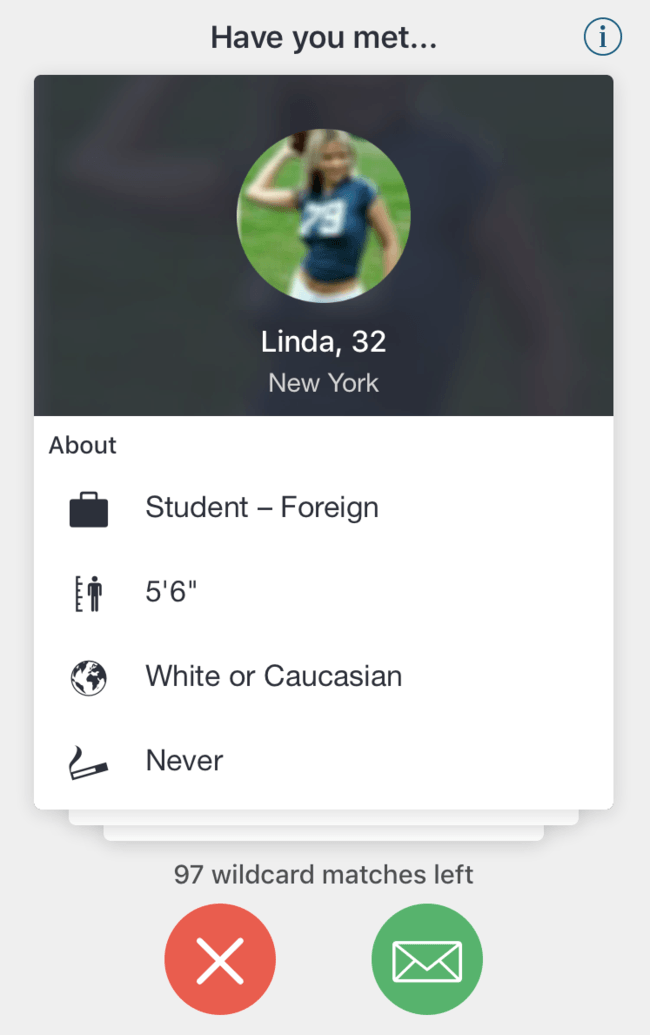 We give it 4.9 out of 5 stars. We'd have to subtract a point because it's hefty monthly price makes the product not available to everyone, but besides that the site really leaves nothing to complain about.
If you're on the fence, just sign up for a free profile first. You'll have access to just the basic features but it's enough to get you started.