Badoo Review (2018)
Overview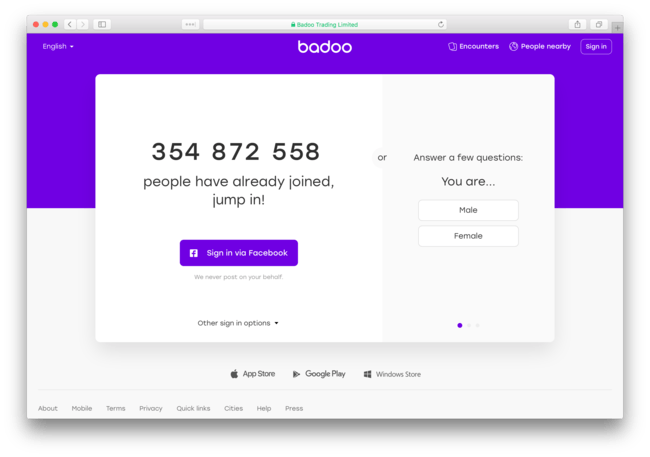 Badoo is an online dating site just like Zoosk that's based on social media. We recommend Badoo primarily if want to meet some new people. As a hook up app, quite honestly it won't do you much good.
Badoo mixes the social media vibe (liking pictures of members) with the online dating features. The end result is a casual dating vibe that helps user interaction. You can up vote or down vote members' profiles, share their pictures on social media platforms like Facebook, Instagram and more. The site also allows members to create private photo albums, photos and videos.
Thus, Badoo is kind of a hybrid between social media and online dating.
There's still a huge double standard when it comes to women and their sexual desires so If you are looking for a hook up on Badoo, we'd recommend you to go somewhere else. Most women won't want to mix this with their social media account.

Overall Rating
| | |
| --- | --- |
| Popularity | |
| Features | |
| Value | |
| Safety | |
| Ease of Use | |
How it works
Signing up to Badoo is a breeze. The site allows you to register by linking to various social media accounts like Facebook or Twitter. You can also opt to answer a few questions in order to gain membership. The questions involve you giving details on your sexual orientation, joining reason (could be to make new friends, chat or to date) and then indicate what sexual orientation you are looking to connect with (male, female or both). In order to complete sign up, you'll need to provide your name, location, birthday and a valid email address.
After sign up, you can opt to import friends from your email address or upload photos from Facebook, Instagram, you device (PC or Mobile) or Google Plus. If you sign up via a Mobile Device, you have the freedom to enable geolocation and push notifications.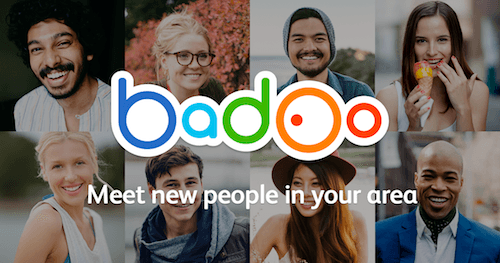 Pros and Cons
Pros of badoo.com
Pleasing Interface feels familiar due to social media
Profile verification process ensures that you do not interact with bots.
Cool little feature that lets you know where you may have met with a user.
Cons of badoo.com
Most women just on there to "meet new people"
Does not have a matching system based on an algorithm. It only has a location feature.
Most of the site's cool feature require you to splash some dough in order for you to access them.
Data Breakdown
User Base

All Singles*

Popularity(Visit/Mo.)

115 Million*

Gender Ratio

70%

30%
Most of the women that use sites like Zoosk, Badoo or Tinder just do it for the validation. They want to feel desired and beautiful. There's nothing wrong with that. We've seen a lot of women choose Tinder over Zoosk or Badoo. Simply cause it's easier and more socially acceptable. This probably contributes to the Gender Ratio of 70% (M) / 30% (F) for Badoo.
Features
Profile verification: Badoo features reliable profile verification option.
GPS Feature: Has an impressive geolocation feature that shows when and where you might have bumped into a user IRL (in real life).
Date members outside of Badoo: Has an option that allows you to connect with members outside of the site on their linked social networks.
Popularity Meter: Has a game like user experience, with cool features like super powers and a popularity meter that makes the site a bit more entertaining to be on.
Pricing
| Month | Price |
| --- | --- |
| 1 Month | $10 / Month |
| 3 Months | $25 / Month |
| 6 Months | $35 / Month |
| 12 Months | $60 / Month |
The Bottom Line
Badoo is incredibly easy to use. But at the end of the day it just doesn't feel like an online dating site. It's more a let's-see-if-I-can-meet-somebody-new site.
Probably great if you're bored and have a lot of time on your hand. But not great if you want to get straight to the point.
For Hooking Up, we give the site 1.5 star out of a possible 5. Whilst the site has everything you want for when it comes to meeting new people, you'd end up wasting a lot of time here if that's what you are looking for.
Also, most of Badoo users are from Asia, Latin America and Europe.